The Iris Tower will now carry an environmental label
After moving into the Iris Tower, it was finally time to prepare BRPS' application for the Ecodynamic Enterprise Label, a certificate awarded annually by Brussels Environment. This was a logical step given the sustainability policy, which is an integral part of the organisation's strategic plan.
Evi Millecam, responsible for the Environmental Management System for various BRPS support services (ISO14001:2015 certified) explains: "In the spring of 2022, we were finally able to start collecting the hundreds of data items needed for the environmental criteria to complete our application file. These criteria include energy management, heating, insulation, water management, paper management, waste management, sustainable purchasing and the means to promote sustainable mobility at the Iris Tower. We were aiming for 3 stars for this label, which is the highest level."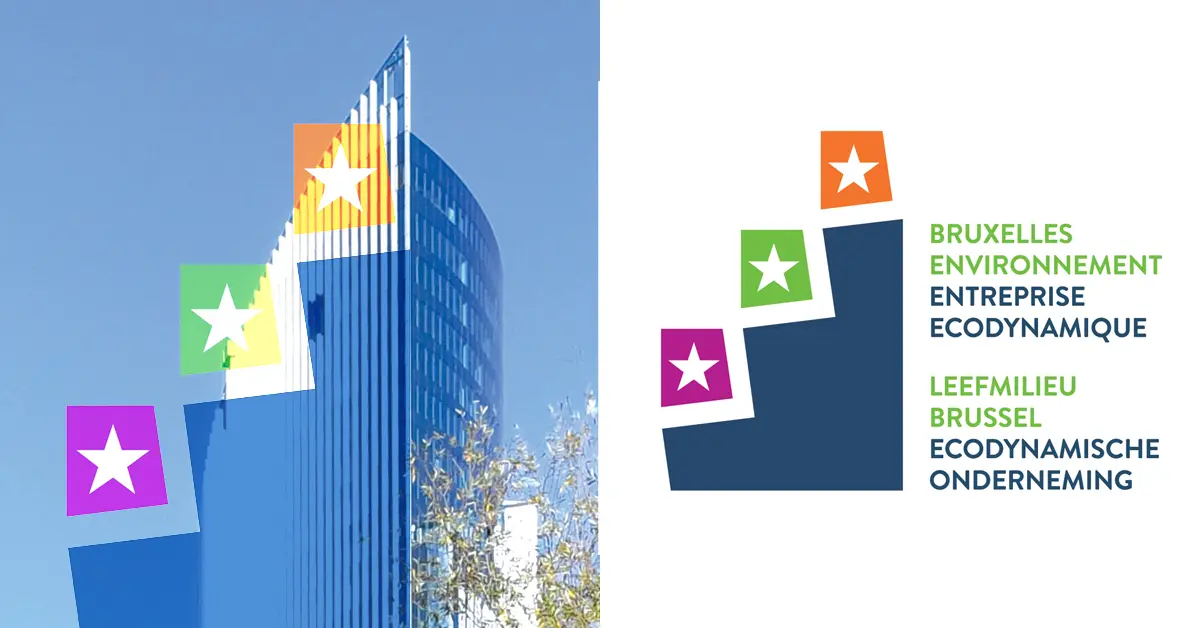 A well-deserved reward
"The Ecodynamic Enterprise Label is a quality guarantee of environmental criteria and the environmental management of Brussels businesses. Obtaining the label for the new BRPS headquarters is a wonderful reward for all the work and energy that we have put into our application for the label, which we actually put into it constantly, every day, with the aim of constantly enhancing and improving our environmental policy and encouraging more and more colleagues to contribute to it by acting responsibly in a society that is experiencing an overlap of crises (energy, climate, health, environment, etc.), and which needs strong and ambitious players in the field of environmental protection," adds Chloé Van Driessche, BRPS' Eco-Mobility Manager. "This also helps draw the attention of many other regional and local players, as well as businesses, citizens and associations, to a measured approach to environmentally friendly improvements.
"An environmental policy is cross-cutting by definition. For such a policy to succeed, it must involve every department, every employee directly or indirectly responsible for managing environmental criteria. We enjoy the confidence of management, as well as the cohesion of our colleagues in different departments. That makes us particularly enthusiastic," says Mark Van Roy, Director of the Quality and Performance Unit (Brussels Synergy).
Now what?
With the Ecodynamic Enterprise Label for the Iris Tower, BRPS has achieved a new dimension in its sustainability policy. However, the existing structures and processes in this area remain in place: the quarterly analysis of environmental criteria for the support services, as well as the numerous information and awareness-raising campaigns and the application of new environmental directives, in addition to some ambitious targets for decreasing our carbon emissions, will continue.